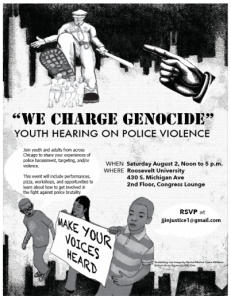 People 25 years old and under are getting together to build.
Young people in Chicago are the future of this city but you wouldn't know it by the way we're treated.
Have you experienced harassment or been hurt by the police? 
Other people have too and we're getting together to share our stories and talk about what to do about it.
Show up at the youth hearing to talk to other young Chicagoans, see performances (eat pizza), and build together.
12:00pm – 5:00pm Saturday August 2nd
Roosevelt University
430 S. Michigan Ave.
*Childcare is available for those who request it. Please let us know if you will need childcare, how many children you plan to bring, and their ages*
If you have questions about submitting your testimony anonymously, please contact jjinjustice1@gmail.com.