"Today when U.S. representatives responded to one of United Nations Committee Against Torture's questions regarding police use of tasers by claiming police are properly trained to use them and that they aren't lethal, the eight We Charge Genocide delegates made eye contact with one another and all knew it was the moment for us to stand. We rose silently with our fists in the air, each holding an image of Dominique Franklin— a 23 year old friend who was tased to death by the Chicago Police Department this summer.
There was an immediate energy that shot through the room, and we were joined right away by Monica James, from the Transformative Justice Law Project, and two members from the National Center for Lesbian Rights/#BornPerfect. A UN staffer quickly approached us and demanded we stop, saying that this wasn't allowed and she would call security. We refused. Staffer Thenjiwe McHarris from USHRN and Crista Noel came to our defense. After contesting the UN security's demands with the support of Crista, we reached a negotiation that if we were silent we could continue to stand.
After five or ten minutes, we grabbed each other's hands in the air and held them there for 30 minutes–  in honor and memory of the 30 minutes Rekia Boyd's body laid in the street after being shot by a Chicago Police off-duty officer. Several fists throughout the room started to rise, including members of the @Ferguson_Geneva delegation, @ChicagoTorture, and students from the NEIU delegation. Most of us didn't notice how many other people in the room had stood in solidarity with us until we looked up or when we finally sat down. A few people walked over to us with words of support, including an former Black Panther Jihad Abdulmumit who came behind us, whispering "Stay strong. You guys are heroes today".  By this point, five police officers were stationed in the room and the U.S. Delegation continued to be visibly uncomfortable. Afterwards, the UNCAT committee gave the US reps a 7 minute break to prep and answer questions that the committee felt we're unanswered in the first half of the session. During the break, UN security asked us and everyone who participated in the silent protest with us for our NGO badges and wrote our names down on a list, stating the reason as protocol "in case anything gets violent."
The only violence in the room came after the break when the U.S. representatives reappeared with more ambiguous, insufficient, and fraudulent claims that attempted to silence the powerful stories presented before the UNCAT. The U.S. reps closed with no real evidence and left us expecting what we had already knew from the data in our report and our lived experiences, that the U.S. accountability measures are awfully inadequate.
While statistics and data are important to have in many platforms of effecting social change, personal narrative proved today to be what really moved the UNCAT members into grilling the US on their consistent and systematic forms of violence and control of people of color in this country. The U.S. dodged questions and misled committee members but our stories, our lives and our struggles were recognized on an international stage and that is undeniable. Know That."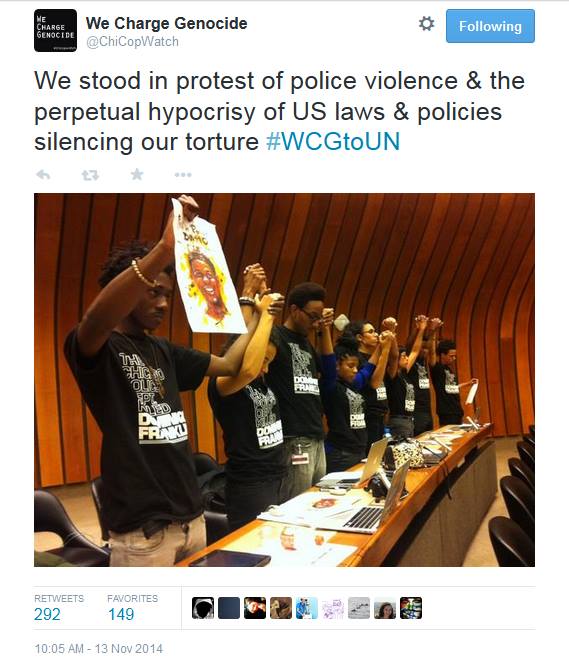 -We Charge Genocide